At Jai Medical Systems, keeping our providers informed is our top priority.

Please review the information below for our newsletters, latest healthcare updates, and special announcements.
Jai Medical Systems Managed Care Organization, Inc. Provider Newsletter
Summer 2017 – VOLUME LIX
Are You Ready?
2017 Secret Shopper Program is Underway
Jai Medical Systems needs your help! The State of Maryland has engaged an audit vendor to begin conducting Secret Shopper phone calls to survey the participating providers in our network. The Secret Shopper program began in September 2015 in response to new federally mandated managed care regulations to ensure that participating provider information available online and in printed directories is accurate. To ensure that we do well with the Secret Shopper surveys, we need your help in two simple ways:
Please ensure that ALL of your staff are aware that you participate with Jai Medical Systems! If you would like a Jai Medical Systems sticker to display, please contact our Provider Relations Department today at 1-888-JAI-1999.
Please ensure that we have the most up-to-date demographic information regarding you and your practice. If there are any changes to your practice, including your hours of operation, phone number, fax number, address, etc., please let us know as soon as possible! By informing us of changes as soon as they occur, we can ensure that our print and online provider directories reflect accurate information about your practice.
In the near future, you will receive a Provider Demographic Verification Letter. Please review this letter carefully to ensure that the information listed is accurate. If any information has changed, please complete the form and return it so that we may update our records. Please note that demographic changes may be made at any time by calling our Provider Relations Department at 1-888-JAI-1999.
---
Maryland Implements New Opioid Prescribing Policy
In 2016, the Centers for Disease Control and Prevention (CDC) released new guidelines and recommendations for prescribing opioids for chronic pain.
Based on this information, the Maryland Department of Health and Mental Hygiene and Jai Medical Systems have implemented a new prior authorization requirement for certain types, strengths, and combinations of pain medications. If you prescribe long acting opioids, fentanyl, methadone for pain, or prescriptions that are above the 90 Morphine Milligram Equivalent (MME) daily dose, this new policy will affect you and your patients. For these types of prescriptions, prescribers will now be required to complete a Prior Authorization form. For detailed information regarding this new policy, please visit our website www.jaimedicalsystems.com. For your convenience, the new Opioid Prior Authorization forms are also available on our website.
Beginning in May, Jai Medical Systems sent out notification to our members who may be affected by this new policy. Please be advised that members may begin to present with the new Prior Authorization form and providers are encouraged to properly complete the new Prior Authorization form, if necessary, so that our members may continue therapy when appropriate.
If you have any questions regarding the Opioid Policy here in Maryland, please visit the State of Maryland's website at https://mmcp.dhmh.maryland.gov/healthchoice/opioid-dur-workgroup/Pages/healthchoice-opioid-response.aspx
---
Pharmacy Update: Hepatitis C Preferred Treatment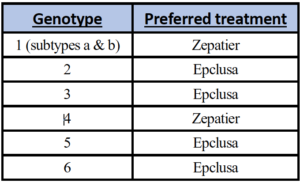 Effective June 19, 2017, Jai Medical Systems has made Zepatier and Epclusa its preferred treatments for Hepatitis C, in accordance with the chart to the right. Jai Medical Systems will continue to use the clinical criteria from Maryland Medicaid when approving treatment, but patients must be ineligible for the preferred treatment before a non-preferred treatment will be approved. For the most up-to-date information regarding the Department of Health and Mental Hygiene (DHMH) Hepatitis C guidelines and criteria, please visit their website at https://mmcp.dhmh.maryland.gov/pap/.
---
Claims Appeals Instructions
Jai Medical Systems would like to remind providers who are not satisfied with the adjudication of a claim that they have the ability to appeal the determination. Providers have one hundred and eighty (180) calendar days to submit a first level appeal from the date of Explanation of Payment (EOP) for the claim in question. Providers have 30 calendar days to submit a second level appeal from the date of the first level appeal's determination letter. Providers have 85 business days to submit a third level appeal from the date that the first level appeal was received. If a provider is submitting a third level medical record review appeal, they must attach the second level appeal determination letter and all applicable medical records.
Please note, any appeals received that do not meet the requirements outlined below may be returned to the submitting party and may not be reviewed. All claims appeals submitted to Jai Medical Systems must include the following information:
A cover letter explaining the reason for the appeal including the name and date of birth of the patient, claim number being appealed, date of service of the claim, and contact phone number and return mail address where the determination letter should be mailed.
A copy of the claim being appealed and/or copy of the EOP; and
Supporting relevant documentation.
---
CAHPS ®
Annually, Jai Medical Systems' HealthChoice members have the opportunity to complete a national satisfaction survey called the Consumer Assessment of Healthcare Providers and Systems (CAHPS). The member satisfaction survey results are compared against other MCOs throughout the state and nation. The 2016 CAHPS survey ranks How Well Doctor Communicates as our highest performing area for our adult HealthChoice members. Our rankings for How Well Doctor Communicates and Getting Care Quickly are at or above 95.5% for children.
The results from the 2016 state issued provider survey once again rank Jai Medical Systems higher than all other HealthChoice MCOs in the following categories: Financial Issues, Customer Service/Provider Relations, Coordination of Care/Case Management, and Utilization Management. Our overall provider satisfaction rating is 81.5%. The 2017 CAHPS surveys were distributed to members and providers in the Spring 2017 and final results will be available at the end of 2017. Thank you for your positive feedback and for your service to our members!
---
Visit Us Online
There are many online services available for our members and providers. Many of the resources listed in this chart are available at www.jaimedicalsystems.com.
If you prefer, all of these resources are also available in print and by telephone. You may request these printed materials by calling Jai Medical Systems at 1-888-JAI-1999.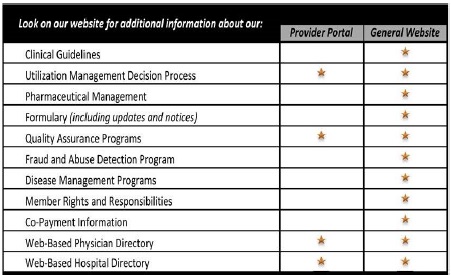 ---
Updates and Reminders:
Provider Portal: Participating providers are encouraged to utilize our Provider Portal to inquire about member eligibility, claim status, appeal status, and much more! To begin using our Provider Portal, please visit: www.jaimedicalsystems.com
Pharmacy Update: Please visit www.jaimedicalsystems.com for our most current formulary as well as all formulary updates and changes.
24 Hour Nurse Advice Line: Please inform members about our 24 Hour Nurse Advice Line, where members can be assisted with information regarding their health, wellness, or preventive care. Our 24 Hour Nurse Advice Line provides members with 24 hour telephone access to Registered Nurses, phone number 1-844-259-8613.
Diabetes Prevention Program: Jai Medical Systems is currently accepting member referrals for our Diabetes Prevention Program. For more information regarding our Diabetes Prevention Program or to see if one of your patients may qualify, please visit us online at www.jaimedicalsystems.com/Omada or contact our Customer Service Department at 1-888-JAI-1999.
Connect to Quit Corner: Connect tobacco-using patients directly to the Maryland Quitline using MDQuit's Fax Referral program by contacting 1-800-Quit-Now.