At Jai Medical Systems, keeping our providers informed is our top priority.

Please review the information below for our newsletters, latest healthcare updates, and special announcements.
Jai Medical Systems Managed Care Organization, Inc. Provider Newsletter
Spring 2017 – VOLUME LIX
Highest scoring MCO on the HealthChoice Report Card for 2017!
On an annual basis, the Maryland Medicaid HealthChoice Health Plan Program provides a Report Card to show how the health plans in HealthChoice compare to each other in key areas. There are six Performance Areas that are measured, ranging from 1-star (Below HealthChoice average), 2-stars (HealthChoice Average), to 3-stars (Above HealthChoice Average). These scores are based on the medical care provided and the annual CAHPS® survey sent to members in each Health Plan.Jai Medical Systems scored well above all other MCOs, earning a 3-star rating 5 times, which is the highest rating available! Every day Jai Medical Systems strives to provide compassionate, quality care, and to help make a positive difference in the lives of our members! Please see below for the full comparison chart from the 2017 Report Card:

---
New Diabetes Prevention Program
Jai Medical Systems has partnered with Omada Health, the nation's largest CDC-recognized Diabetes Prevention Program provider (DPP). Omada Health is an online health program that provides support and tools to lose weight and reduce the risk of getting diabetes. Omada is being offered at no cost to members. If you have a patient that is a Jai Medical Systems member, able to go online at least once a week, and at risk of getting diabetes (BMI higher than 24 and has high blood sugar), please direct them to www.jaimedicalsystems.com/omada to see if they are eligible and to learn more about this program.
Slots are filling quickly, there are approximately 60 slots left, please encourage members to sign-up! Please contact Jai Medical Systems Customer Service Department at 1-888-JAI-1999 with any further questions.
---
Pharmacy Updates & Opioid Prescribing Policies
Please visit www.jaimedicalsystems.com/providers/pharmacy/ for our most current formulary as well as all formulary updates and changes. Additionally, please note, in partnership with DHMH, Maryland Medicaid's Opioid Drug Utilization Review Work Group is hosting provider training sessions on Medicaid's new opioid prescription policy.
Please register for a webinar in April or May by registering at https://goo.gl/uC4xqD. The new opioid prescription policy will take effect on July 1, 2017.
---
Value Based Purchasing Initiatives
On an annual basis, the State of Maryland Medicaid Program selects specific HEDIS® and encounter based quality indicators for its Value Based Purchasing Initiative. The Value Based Purchasing Initiative is one of the methods used by the HealthChoice program to gauge the performance of participating Managed Care Organizations. We would like to ensure that all of our participating providers are aware of the CY 2017 Value Based Purchasing Measures and Targets selected by the State of Maryland. Please review the Value Based Purchasing Measures and Targets. On a periodic basis, we will be sending you more specific information concerning the Value Based Purchasing Initiative, including strategies for success. To learn more about Jai Medical Systems' quality initiatives, please visit www.jaimedicalsystems.com/providers/quality-assurance/.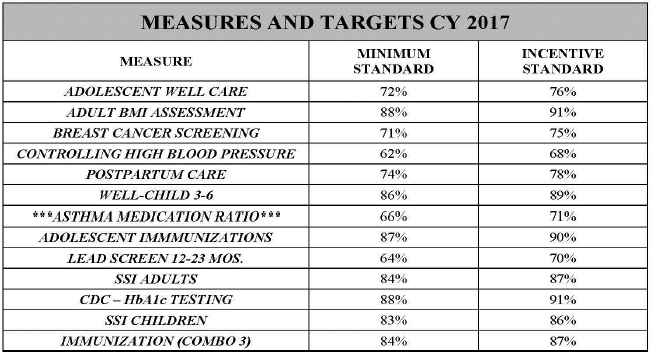 ---
Is your staff aware of their participation with the #1 MCO in Maryland?
As a participating provider with Jai Medical Systems, please remember the following:
Providers should ensure that Jai Medical Systems is included as an accepted insurance health plan;
Providers should display participating provider signage as provided by Jai Medical Systems. If your organization does not have a participating provider signage, please contact the Provider Relations Department at 1-888-JAI-1999; and
Providers should ensure that all providers and staff are appropriately educated and aware of their participating provider status with Jai Medical Systems at all times.
---
Electronic Communications
At Jai Medical Systems, we are continually striving to reduce our impact on the environment and improve provider satisfaction. Please help us by signing up to receive important provider communications electronically via e-mail. By signing up today, you will receive newsletters, important notices, and other pertinent information electronically. This information will be sent directly to the e-mail address provided, which may include participating providers and/or applicable office staff. At a minimum, you will receive all Provider Newsletters, and other e-mails on a periodic basis. To sign-up today, please visit www.jaimedicalsystems.com/providers/provider-newsletter/.
---
Visit Us Online
There are many online services available for our members and providers. Many of the resources listed in this chart are available at www.jaimedicalsystems.com.
If you prefer, all of these resources are also available in print and by telephone. You may request these printed materials by calling Jai Medical Systems at 1-888-JAI-1999.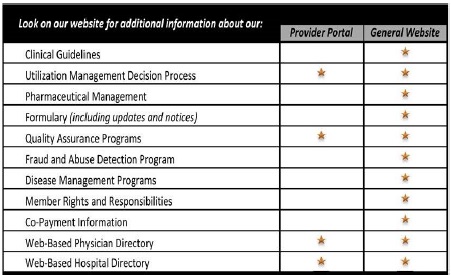 ---
Updates and Reminders:
Provider Portal: Participating providers are encouraged to utilize our Provider Portal to inquire about member eligibility, claim status, appeal status, and much more! To begin using our Provider Portal, please visit: www.jaimedicalsystems.com
Pharmacy Update: Please visit www.jaimedicalsystems.com for our most current formulary as well as all formulary updates and changes.
24 Hour Nurse Advice Line: Please inform members about our 24 Hour Nurse Advice Line, where members can be assisted with information regarding their health, wellness, or preventive care. Our 24 Hour Nurse Advice Line provides members with 24 hour telephone access to Registered Nurses, phone number 1-844-259-8613.
Health Risk Assessment: Please encourage members to utilize our new online wellness portal, located at www.jmslivelifewell.com. Our wellness portal features wellness tips, health education videos, and a health assessment that members can complete
Online Health Education: Health Education materials are available to eligible members by registering on the member portal, https://secure.healthx.com/jaimember2016.aspx. For more information please contact our Customer Service Department at 1-888-JAI-1999.