At Jai Medical Systems, keeping our members informed is our top priority. Please review the information below for our newsletters, latest healthcare updates, and special announcements.
Please review the information below for our newsletters, latest healthcare updates, and special announcements.
Jai Medical Systems Member Newsletter
A Message from the Director of Customer Service:
Don't Lose Your Health Insurance Benefits this Summer!
Thank you for being a member of Jai Medical Systems, the Highest Rated MCO in Maryland. We value your membership and want to ensure that you do not have a lapse in coverage. To ensure that you maintain your health insurance benefits with Jai Medical Systems, please renew your benefits before your eligibility end date.
To renew your benefits today, please visit the Maryland Health Connection online at www.marylandhealthconnection.gov. You may also schedule an appointment today to meet with a Certified Application Counselor. For more information or to schedule an appointment with a Certified Application Counselor, please call us today at 1-888-JAI-1999. If you have a disability and need to renew your benefits, please contact your social worker right away.
Application Counselor Services are available from 9am to 6pm at the following participating medical centers:
Jai Medical Center
5010 York Road
Baltimore, MD 21212
Jai Medical Center
4340 Park Heights Avenue
Baltimore, MD 21215
Jai Medical Center
1235 East Monument Street
Baltimore, MD 21202
---
2017 HealthChoice Report Card
Every year, the Maryland Medicaid HealthChoice Health Plan Program provides a "Report Card" to show how the health plans in HealthChoice compare to each other in key areas. Jai Medical Systems is proud to announce that our organization scored well above all other MCOs, earning a 3-star rating 5 times, which is the highest rating available! We strive to provide you and your family with high quality healthcare benefits and services. If you have any questions about our benefits or need assistance, please feel free to contact us today at 1-888-JAI-1999. Please see below for the 2017 Report Card.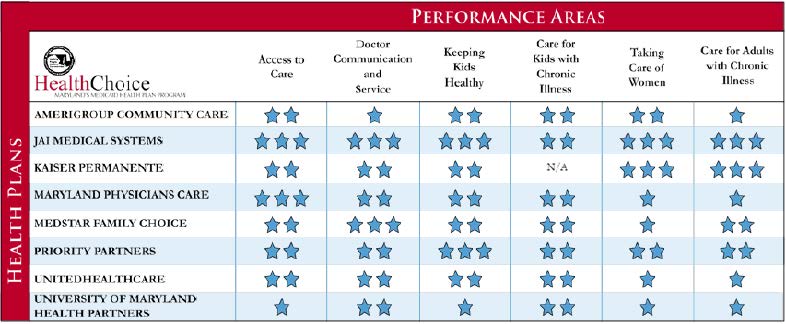 ---
Case Management Services
Complex Case Management and Case Management programs are available for members who have serious medical conditions or have complex conditions and/or special needs. Case Management will provide you with support and guidance to help you with your healthcare. Our Nurse Case Managers can also assist with care coordination. In addition, there are Disease Management Programs for members with Hypertension and Asthma. These Disease Management programs provide additional information and support for you while helping to control your high blood pressure and asthma.
If you have any questions about our Case Management services, Complex Case Management services, and/or Disease Management programs or would like to find out if they are right for you, please contact our Customer Service Department today at 1-888-JAI-1999.
---
Maryland Implements New Opioid Policy
In 2016, the Centers for Disease Control & Prevention (CDC) released new guidelines and recommendations for Prescribing Opioids for Chronic Pain. Based on guidelines set by the Maryland Department of Health and Mental Hygiene, Jai Medical Systems' has implemented a new prior authorization requirement for certain types, strengths, and combinations of pain medications. If you are currently being prescribed a long acting opioid, fentanyl, methadone for pain, or prescriptions that are above the 90 MME daily suggestion from a provider; this new policy will affect you. Jai Medical Systems has mailed a letter to all members that will be affected by this new policy change.
For more information about the new opioid policies in Maryland, please visit our website at www.jaimedicalsystems.com. If you have any questions regarding this new opioid policy or the prior authorization requirements, please contact our Customer Service Department at 1-888-524-1999.
---
Access to Healthcare Providers
Jai Medical Systems Managed Care Organization, Inc. is a Medicaid Managed Care Organization that provides Medicaid health insurance benefits for the State of Maryland in the Health Choice program. As a member of Jai Medical Systems, you are entitled to see a provider within 30 minutes or 10 miles from your home for urban areas or 30 minutes or 30 miles from your home for rural areas. Members who are outside of the 30 minute/10 mile barrier for urban areas or outside of the 30 minute/30 mile barrier for rural areas are eligible to change their MCO by contacting the HealthChoice Enrollment Line at 1-800-977-7388. If you need assistance locating a provider in your area, please contact our Customer Service Department at 1-888-524-1999 and a dedicated Customer Service agent will assist you with locating the nearest provider.
---
Special Announcements
Please visit www.jaimedicalsystems.com/providers/pharmacy/ for our most current formulary as well as all formulary updates and changes. Additionally, please note, in partnership with DHMH, we will be updating our Opioid Prescription Policy, effective June 1, 2017. Please look for more information regarding this new prescription policy in our Summer Newsletter.
Medicaid Opioid Response
DHMH and MCO Notice regarding Opioid Policy Changes
Notice to Prescribers regarding Jai Medical Systems' Opioid Prescription Policy
Important Reminders
Healthy Rewards
There is still time to receive your Healthy Reward for 2017. See your Primary Care Provider today and mail in your Healthy Reward Redemption Certificate. It is that easy to earn your Healthy Reward!
Update Your Contact Information.
If you have moved recently and/or have a new phone number or email address, please call our Customer Service Department today at 1-888-JAI-1999 to update your contact information.
MD Quitline
Stop smoking today. Call the MD Quitline today at 1-800-QUITNOW (1-800-784-8669) or visit them online at smokingstopshere.com/ for more information on how to quit smoking.
Need transportation to your appointment?
We are here to help! Jai Medical Systems offers FREE transportation for its members to and from their primary care appointments. Please call our Customer Service Department today at 1-888-JAI-1999 for more information.
---
Contact Us
301 International Circle
Hunt Valley, MD 21030
1-888-JAI-1999
Hours of Operation
Monday through Friday
9am to 6pm
www.jaimedicalsystems.com